*See Frequently Asked Questions Below!
The Zionsville Office Expansion Project
In order to improve your client experience, enhance employee growth and collaboration opportunities, streamline processes and increase efficiencies, we will be expanding our current state-of-the-art facility located in Zionsville, IN to accommodate our Brownsburg team and consolidating our operations there.
As we look to the future of our business, we want to focus on our history of community involvement and sense of family. Bringing our team together under one roof will allow us to operate as a cohesive unit that will not only benefit our employees, but will improve the services we offer our clients.
Our current Zionsville office, located in front of the Zionsville Town Hall, was constructed in 2019 and boasts modern, comfortable amenities, as well as a large conference room that allows for collaboration and community educational events. The new office expansion will take place in the northwest corner of the second floor where employees will be able to work together utilizing the latest technology.
For more information about the expansion or to follow along with the construction, click here (check back frequently for future updates).
FAQs Regarding Zionsville Office Expansion
What?
Brownsburg office team relocating / moving to expanded Zionsville office.
When?
November 1, 2021
Why?
Bringing team together under one roof to improve efficiencies and processes.
Where?
1120 W Oak St, Suite 200, Zionsville, Indiana 46077
What is changing?
All team members will be working from the Zionsville office.
What happens to my information/documents?
No change. Client documents have always been stored digitally on a central secure server. All client documents have always been accessible from either office.
What are my service options?
Zionsville Office Appointments
Zionsville Drop off / Pick up
Digital Experience / Zoom
Brownsburg Office Lockbox
Mail
Do you have options for someone who doesn't want to drive to Zionsville?
Digital Experience / Zoom: You can always submit your documents digitally through our secure document portal. You can also meet with your tax preparer or advisor digitally via Zoom.
Secure Lockbox: The current Brownsburg office has a secure lockbox on the east side of the building where you can drop off your documents. The new owner of the building is allowing us to rent this lockbox for our use. Please make sure to include your name and phone number on the envelope before dropping in the lockbox. This lockbox is checked by a Storen Financial team member once per day. We will return your documents via mail.
Mail: Mail your documents to 1120 W. Oak St, Suite 200, Zionsville, IN 46077. We recommend you mail copies of your documents (not the originals) and place in a security envelope. Please include your updated contact information as well.
How will this improve my experience as a client?
With our team in one location we'll be able to easily communicate, improve processes and focus on more team educational opportunities.
Will Storen Financial have a connection to Brownsburg anymore?
Yes, we will remain an active member of the Brownsburg Chamber of Commerce and continue to support local organizations. Many of our staff live in and are active in the Brownsburg community.
Can I still have an in-person tax appointment to get my return done? With the same preparer?
Yes, simply contact our office to schedule your appointment! The appointment will take place in Zionsville.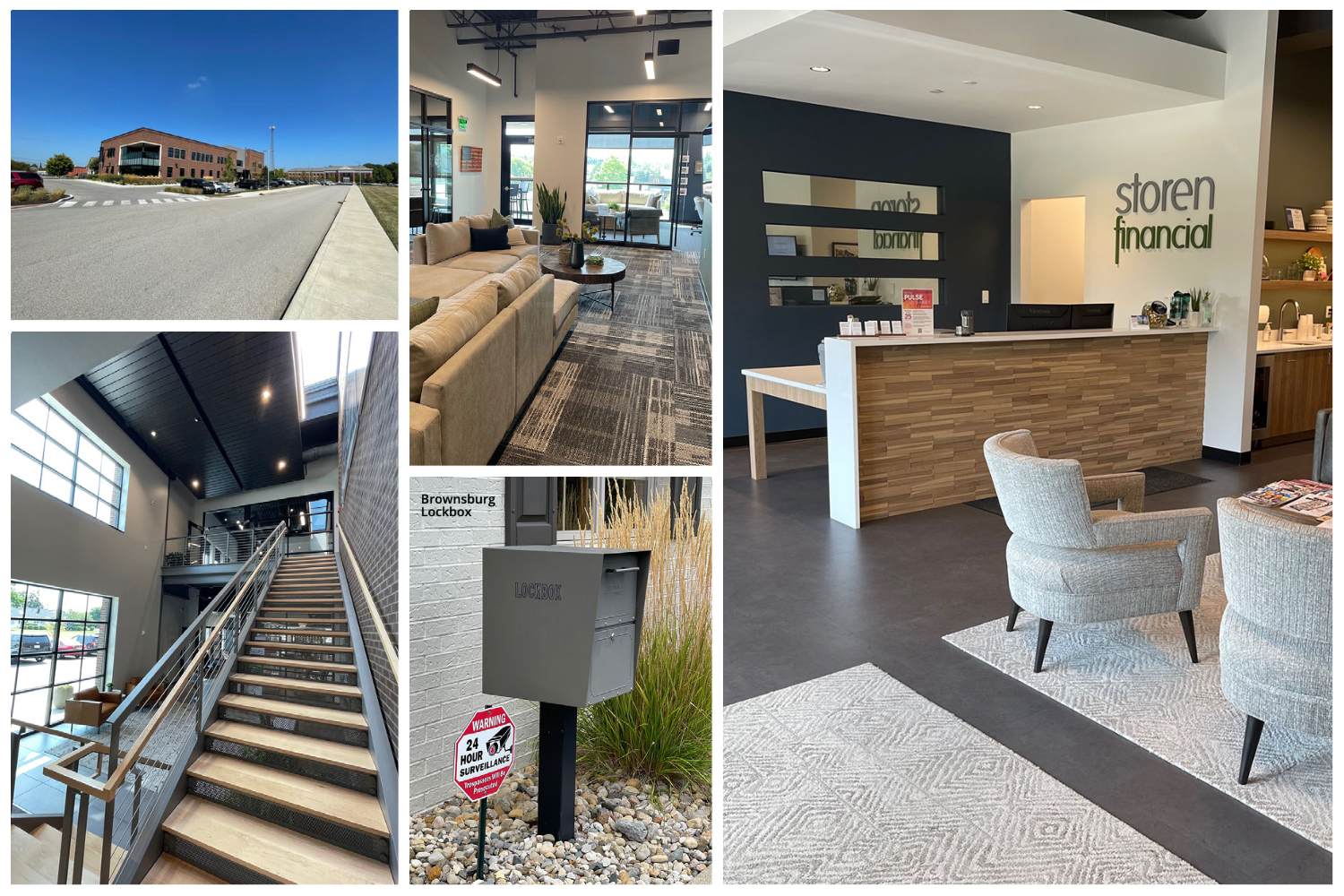 Blog by Greg Storen, MBA – Advisory Services Director, Senior Tax Professional
Learn more about Greg and the rest of the Storen Financial team here.