How-to reconcile credit card processor service fees
One of the most common struggles plaguing business owners and bookkeepers alike is reconciling deposits when the credit card processor deducts the service fee from each transaction. This causes the deposit amount and the sale amount to differ. It is easy to then fall into the trap of adding the deposit from the bank feed. This causes uncleared Undeposited funds and an overstatement of sales. Learn more about Undeposited funds in Jay's blog here.
This article from QuickBooks will walk you through the steps of how to correctly enter a bank service fee while using a third-party merchant service (click here to read this article).
Once you have made the deposit into the bank account in QuickBooks Online (QBO), use the bank feed to match the incoming transaction to the deposit you just made. This will clear the Undeposited funds and ensure the correct statement of sales. If you would like to have help solving this and other QBO struggles, please reach out to our Business Services Team. We are here to help you! Or learn more about our Business Services here.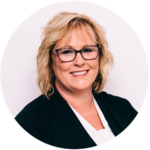 Blog by Erika Lewis – Business Technology Consultant and QuickBooks Advanced Certified ProAdvisor
Learn more about Erika and the rest of the Storen Financial team here.