An Hour with Ed Slott, America's IRA Expert
Join Storen Financial for an exclusive virtual event, featuring Ed Slott, American's IRA Expert… One hour that could change your financial future!
May 11, 2021 | 4:30pm | Virtually via Zoom
Tune in to learn how Ed helps Americans keep more of their hard-earned money.
Learn from the best and gain insight on ways to enhance your retirement planning! Renowned Ed Slott is a nationally recognized IRA distribution expert, professional speaker, television personality, and best-selling author. He is known for his unparalleled ability to turn advanced tax strategies into understandable, actionable and entertaining advice. He will share his insight about changing your position from "Forever Taxed to Never Taxed." Down-to-earth, informative and entertaining, Ed takes the mystery out of complicated tax concepts showing everyday Americans how to become tax savvy in planning for retirement and keep more of their hard-earned money.
Who is Ed Slott?
Ed has been named "The Best Source for IRA Advice" by The Wall Street Journal, and USA Today wrote, "It would be tough to find anyone who knows more about IRAs than CPA Slott." As president and founder of Ed Slott and Company, LLC, the nation's leading source of accurate, timely IRA expertise and analysis to financial advisors, institutions, consumers and media, he provides advanced training to financial professionals and answers to retirement savers' most important questions. Click here to learn more.
Receive a complimentary copy of Ed's new book!
Plus, by attending, you will receive a complimentary copy of Ed's new book!
The "New Retirement Savings Time Bomb" shows you in clear-cut layman's terms how to take back control over your retirement savings and your financial future. The ticking tax bomb is coming! But this easy-to-follow guide can help you avoid the latest traps set out by Congress and show you how to structure your retirement savings so you can have more, keep more and make it last, no matter what. Click here to learn more about this book.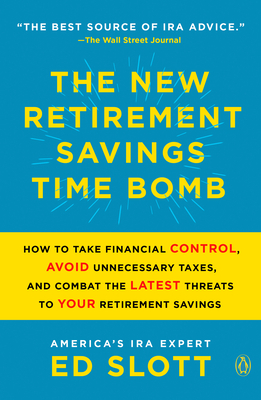 Register TODAY for this Exclusive Virtual Event. One hour that could change your financial future!
We encourage you to invite a friend who could benefit from this hour well spent!
Why Ed Slott?
For the last 15 years I've been an active member of Ed Slott's Elite IRA Advisor Group, an exclusive organization dedicated to the ongoing study and mastery of constantly changing and complex tax laws impacting your retirement savings. Ed and his team of IRA Experts are a valued part of my back-office team to help provide you with the latest strategies to help answer your toughest questions and avoid unnecessary taxes on your retirement. Click here to learn more.
Ed Slott is not affiliated with Storen Financial and LPL.
At Storen Financial, we offer so much more than tax preparation and accounting services. We go beyond the numbers to provide our clients with financial planning, in-depth consulting, and year-round support. Looking for more info? Click below to learn more.
Frequently Asked Questions
The Latest News from Storen
Information Required to Produce Your Tax Return *All forms needed to produce your tax return should be issued or available to you prior to January 31st. If filing jointly, please provide forms and information for both the primary taxpayer and spouse. Below is...
read more
Contact us with any questions you might have!